Should I Repair or Replace my Air Conditioner
Important Factors for Choosing Central AC
Questions to ask yourself when considering whether to replace or repair your existing HVAC System
How old is your system?
How efficient is your existing HVAC system?
How is the performance of your existing HVAC system?
How long do you plan to reside in your home?
How often have you had your HVAC system maintenanced?
Do you have R-22 refrigerant or R-410A?
Is your existing HVAC system noisy?
Efficiency
Efficiency is expressed as the Seasonal Energy Efficiency Rating, or SEER. The minimum SEER for a split system central air conditioner allowed today is 13, so look for units with SEER ratings of 13 or greater. The higher the SEER, the more you can lower your energy costs.
Most systems that are 10 years or older are more likely to run less than 10 SEER. There are many efficiencies on the market. Systems that Energy-Star Services offers can range up to 21 SEER. There is a significant reduction in your utility usage when you convert to an Energystar efficient unit.
How often do you Maintenance your Heating & Cooling System?
Which Programmable Thermostat works best for your home?
Proper use of a programmable thermostat can reduce your heating & cooling costs by up to 20 percent.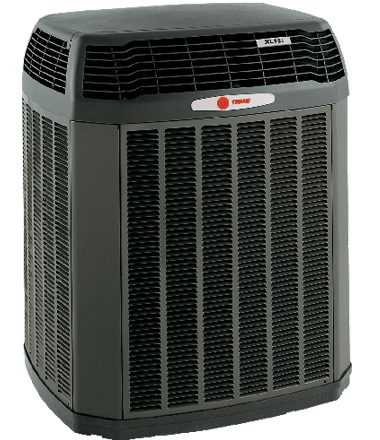 Trane XL18i | High Efficiency Central A/C System
Upgrading an existing system
If you're upgrading your central air, don't assume you should buy the same-sized system. Any changes you've made to improve your home's energy efficiency, such as upgrading your windows or adding insulation, can reduce your cooling needs. On the other hand, if you've added rooms, you might need more cooling.
Energy efficiency matters
Recent advances in A/C technology have greatly improved energy efficiency. Energy Star recommends upgrading to an energy-efficient unit if your current central air conditioner is 10 or more years old. Many HVAC technicians say they typically recommend replacing units if they are 15 years or older, the average lifespan of an A/C unit is approximently 14 years depending on the brand of the AC, initial installation and if the system is regularly maintained.