Ductless Heat Pump Systems
Single and Multi-Room Ductless Heat Pump Systems
Ductless Heat Pump Systems
If you want precise temperature control throughout your home then the Ductless Mini Split System is ideal for you! Our certified technicians are experts in this modern and efficient technology. These systems allow you to control temperatures in each individual room. Perfect for additions, sun rooms, and finished basements, ductless heat pumps can regulate multiple zones for the ideal temperatures with minimal energy expenditure.
Get a FREE ESTIMATE on Replacing your Existing Ductless System Today!
START YOUR INSTALLATION QOUTE
Multi Room Zoned Ductless Heating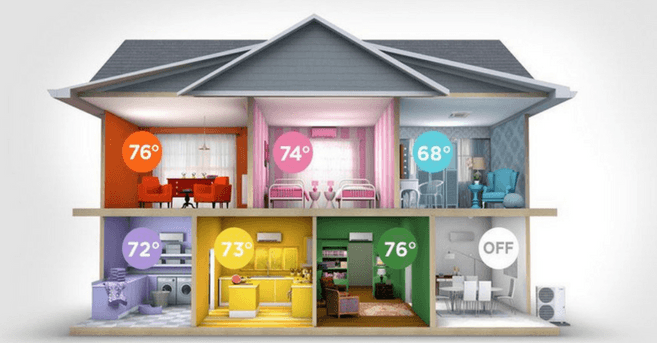 Ductless Heat Pumps
A good Multi Zoned Ductless System provides energy efficiency performance and control to home cooling and heating. It's never been easier to keep everyone in your home comfortable without spending a fortune on energy bills.
Choose your Zones, Get your quote!
Get an Instant Quote
Ductless Heat Pump Repair
Energy-Star Services team of expert technicians can diagnose and repair any problem with your ductless heat pump system.
We service New Jersey & Pennsylvania. Contact us today to schedule a service call that is convenient for you.
CALL NOW 215-464-4549
Schedule your FREE ESTIMATE
Energy-Star Services Guarantees
100% Satisfaction |
Comfort |
Energy Savings |
Customer Respect
Ductless Heat Pump Maintenance
These systems provide efficient cooling and heating year round while saving on energy costs. Energy-Star Services Comfort Specialists know exactly where to look for wear and tear that comes with such frequent use. If you ever have any issues with your system or are due for regular maintenance, call our professional team to schedule a service call right away.
In Need Of A Service Maintenance Agreement (Service Maintenance Contract)
Become an Energy-Star Services Club Member and Start Saving Today!
The Benefits Of Installing Ductless Heat Pump Systems?