Ductless Mini Split A/C Systems
Single and Multi-Room Split Type Air Conditioner
Easy Controls
Allow temperature regulation by zone per room.
Call an Energy-Star Comfort Specialist to schedule today.
We Install the Best Ductless Mini Split AC Systems | That Cost You Less!
If you're interested in setting up a Ductless Mini Split system in your home, you can schedule a hassle-free consultation with our Home Care Advisors. They will be able to walk you through the process, from selecting the Ductless System to installing it in the right area of your rooms. These systems do not require ductwork!
We are the area's leading Ductless Installer. We guarantee 100% satisfaction. We make sure your Ductless System is set up to achieve peak efficiency with minimal to no construction needed for full installation.
Replace those inefficient window units today!
Start Your Free Estimate Here
Mini split AC Doesn't Have to be an Eyesore... Install Ductless Air Conditioning that fits seamlessly with the Interior of your home
Our Ductless AC Units
Fujitsu Ductless Mini Split AC Systems
Fujitsu ductless systems are trusted all over the world to provide efficient and effective heating and cooling. Explore their full selection of multi-room and single room units and discover the perfect solution to your home comfort needs. When you're ready, give and Energy-Star Services Inc representative a call and see how you can save on these amazing products.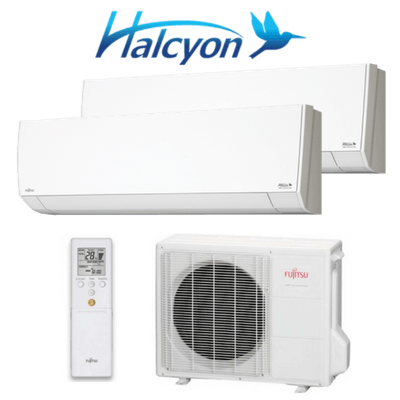 DUCTLESS DUAL ZONE: Built-in Wi-Fi, Highest SEER
High Efficiency Dual Zone Wall Mounted Heat Pump Air Handlers
Digital Wireless Remotes with Mounts
High Efficiency Dual Zone Heat Pump Condenser
Surge Protector
Decorative Line Covering on Exterior Walls
Split A/C Warranties and Guarantees
12 Year 100% P/L Warranty
2 Year System Maintenance
100% Satisfaction Guarantee
Energy Savings Guarantee
Features
As much as half of the energy used in your home goes to heating and cooling. So making smart decisions about a home's HVAC system can have a big effect on utility bills — and comfort. Systems 9RLS3Y, 12RLS3Y and 15RLS3Y are currently among the world's most efficient mini-splits in North America, with Seasonal Energy Efficiency Ratings of up to 33.0-SEER.
The RLS3 systems are packed with features specifically created to save you money – like Energy Saving Program, or ESP, a programmable remote control and inverter technology.
Operation From Anywhere
Wi-Fi enabled systems such as the RLS3Y and RLS3YH series can be controlled from anywhere using the FGLair app on a mobile device.
Get an Instant Quote Now
Enjoy the freedom of choice
1. Build Your System
2. Get Your Quote
Start Building
Energy-Star Services Guarantees
100% Satisfaction |
Comfort |
Energy Savings |
Customer Respect
Schedule a FREE ESTIMATE on Installing a Ductless Mini Split A/C
Have an Energy-Star Services Comfort Specialist help choose the best Ductless Mini Split for your home.